As a professional property or facilities manager, you'll know that the quality of your landscape has too great an impact on your property value to settle for anything less than the best commercial landscaping partner you can find.
And you'll know how things like landscaper reliability and knowledgeable preventative work make a difference to your own workload today and in the future.
Our pro tip based on 45 years of experience? Use this simple checklist to make sure you've found the right match for your property…
Finding a Commercial Landscaping Company: Three Steps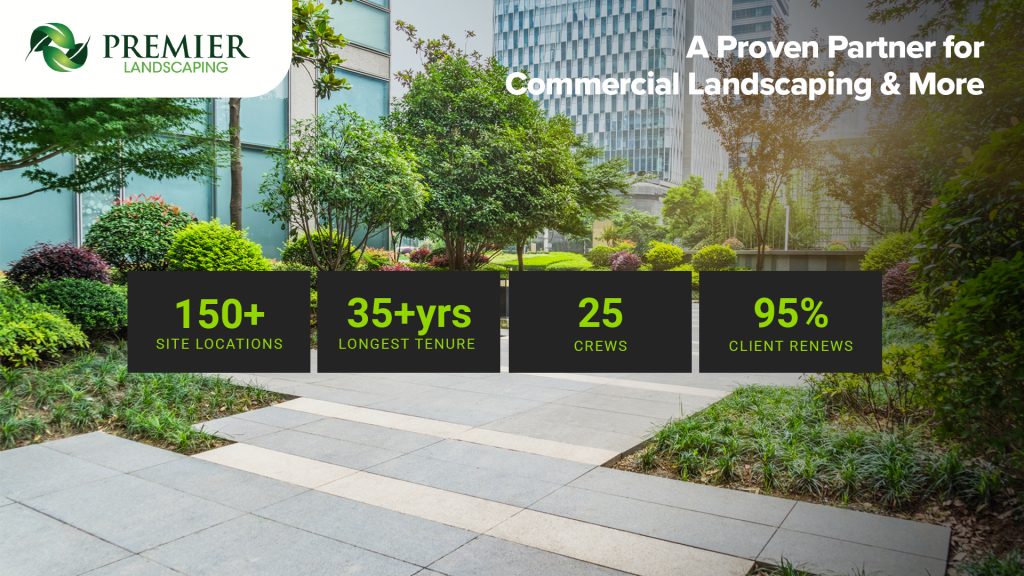 If you demand the best for your property, simply ask a few essential 'deep dive' questions to reveal the standards you can expect from a potential commercial landscaping partner…
1, BEFORE ASKING A COMPANY TO QUOTE
✔ How many years have they been in business, and how many years of experience do they have in your sector?

✔ Have they maintained many properties similar to yours?

✔ Do they offer all the services you'll need? Eg tree care? Hardscaping?

✔ What is their portfolio size?
✔ Do they openly publish their core values and do they align with your core values?
✔ What's the longest tenure on a site? (We openly publish ours: it's 35 years!)
Extra tip: Checking whether the landscaping company itself has a positive culture with low turnover of colleagues means you can be assured of continuity of service rather than constant changes of personnel
2, ONCE YOU'VE RECEIVED A QUOTE
✔ Did a representative of the company take time to meet with you prior to submitting their proposal?

✔ Does the proposal show that you were listened to and that your site-specific needs will be met by partnering with this company?
✔ What approach to sustainability does the business take in their work?
✔ What is the company's employee turnover rate in the past 5 years and what is their approach to employee retention in markets with labour shortages?
Extra tip: Pay attention to whether a landscaping company continues to approach your property as a project to manage through good planning – eg work to prevent lawn damage from Chafer Beetle and seasonal tasks like irrigation repair – rather than as a series of reactive tasks.
3, AFTER SIGNING UP TO A NEW LANDSCAPING COMPANY
✔ Will you be dealing with a single point of contact throughout?
✔ What is the landscaping company's plan for site communication & reporting?

✔ Will they have the capacity to scale to multiple properties if needed?
✔ Does the business show a track record of continuing to evolve and innovate in its services?
✔ What is the company's solution or plan to work with you if there has been a misunderstanding or misalignment in the expectations throughout the contract?
Extra tip: A landscaping company with substantial social events as well as charity and volunteering links in the community – for our part, this is very much part of our business culture – shows a positive approach to people you can expect to be reflected in the landscaping work. Why? Because a business where colleagues do things as a family, and are supported like family members too, creates a 'one team' ethos clients regularly notice in the work they receive.
Questions about how professional commercial landscaping would benefit your property? Just ask! We're here to help.
Why You Should Make Premier Landscaping Your Next Call
We meet every standard we've described in our checklist and then some as – after all – we've been renowned for being landscaping perfectionists who work with a passion for what they do.

For example, Site Supervisor Laura Beimers explains here that as a horticulturist she "takes pride" in her work and "loves creating places that make people smile": "I love coming into a place and making it better".

In fact Laura was singled out by our valued client BCIT for praise when Adam Dickinson of BCIT told Laura: ""…thank you for your continued professionalism, teamwork, positivity and consistency in keeping our landscapes healthy and vibrant!"
How does our approach to customer service help you?
✔ Dedicated Client Care Manager
✔ Expert advice…always
✔ Super-reliable work with consistency of results every time

Plus, our 'we keep our promises' ethos means we finish what we start. This means we…
✔ Keep our promises
✔ Finish each job (regardless of cost to us)
✔ Work year-round with awesome reliability
We're trusted to care for millions of square feet, all year round, at locations throughout Greater Vancouver and Fraser Valley including educational facilities, commercial sites, strata residential areas, healthcare facilities and retail.
Also, we can manage substantial portfolios and, through a single Client Care Manager, our famous dedication to superb client experience and quality of work applies to everything we do.
More testimonials from our clients are, of course, available. But we also go one further by sharing colleagues' experiences of being part of Team Premier Landscaping. Why? Because we believe an established team doing their best work is better for us, for our colleagues and for you.
Colleagues like Kendra Herrick, Maintenance Crew Supervisor, who says she has "never worked for a landscaping company that supports the way they do…it's unreal". Fellow Maintenance Crew Supervisor Charlie Carino adds that "they care" and that he considers himself lucky to be part of the team.
If it sounds like we do things a little differently, that's because we do! To discuss the best landscaping option for your commercial, Strata, healthcare, education or retail properties simply speak to a Premier Landscaping specialist. We're here to help.

See also: Fall Planting vs Spring Planting, Which Type of Retaining Wall is Right for Your Property